Chichi's resturant appears in 
The begin
,it's is a popular resturant with many customers,the resturant itself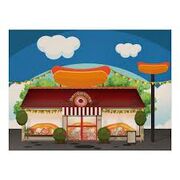 was mention in 
Pie bros
 by 
Chichi.
Known customers
Edit
  *Goku
The resturant was thought to be destoryed on one episode.
Are is a list of things that can be seen on the list:
Burger 3.50$
Fries 20 cents
Pizza 2.50$
Chesse burger 2.00
Big mushroom burger 5.74$
Happy burger 2.20$
Mushroom pie 1.70$
Cherry 2.10$
Veggie burger 3.5 0$
Mushroom 1.00$
Big Pizza 5.50$
Ice cream 1.75$
On some episodes pan is the waiter.
Goku actally did eat some of luigi's fries when he wasn't looking.