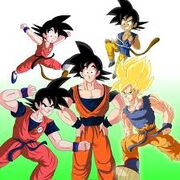 Meet goku is an Clip on the new movie the mushroom fighters:The first fifhteen episodes,it was aired on janury 13,2013 and aired on canada 14,2013.
Chararcters
Edit
Goku[Main]
King wingbag[Main and narrator]
The clip begins with goku walking and wingbag walking about him from all of this years,Goku notices him and says ha to him,king windbag tells him he's an idot,goku knocks down,then goku notices the camra again and ask it to give him a minute and he uses the minute to beat up king windbag.
Transcript
Edit
Too be added.
This marks the first time goku beats up a a human in the series.
This is the second meet a chararcter clip.
Ad blocker interference detected!
Wikia is a free-to-use site that makes money from advertising. We have a modified experience for viewers using ad blockers

Wikia is not accessible if you've made further modifications. Remove the custom ad blocker rule(s) and the page will load as expected.