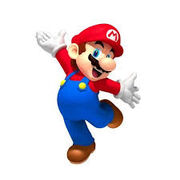 Meet Mario is an Clip from the dvd mushroom fighters the first fifthteen episodes,It was aired on j the 13.
Kingwindbag couldn't Find chichi so he sees mario and want to Interview him.
Chararcters
Edit
Mario[Main]
Kingwindbag[Narrtor and main]
Kingwindbag can't find chichi so he finds mario and tell mario that he's interviewing him,mario looks at the Srceen Akwardly and sighs,So after mario Talking about his life soon kingwindbag lefts.
Transcript
Edit
To be added.
Mario is the only one who didn't threathing Kingwindbag,but we guess he finds mario annoying.
Mario reveals that he's 31.
Mario also reveals that he's birthday is on June 16,1979.
Ad blocker interference detected!
Wikia is a free-to-use site that makes money from advertising. We have a modified experience for viewers using ad blockers

Wikia is not accessible if you've made further modifications. Remove the custom ad blocker rule(s) and the page will load as expected.