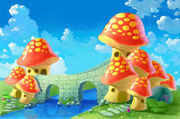 The mushroom bridge is an Famous Bridge made by toad workers hundreds of  years ago,It is used alot of times,
Peach
 use the bridge for tours for new people entering the mushroom city kingdom,it was almost destroyed by
The dark lord
 himself,
Goku
,
Toad
,
Luigi
 when goku had he's famous speech in
"the begin"
.
Appearings
Edit
1.The begin[Debut]
The Bridge is seen earlier in the episode The begin when goku was flying.
Ad blocker interference detected!
Wikia is a free-to-use site that makes money from advertising. We have a modified experience for viewers using ad blockers

Wikia is not accessible if you've made further modifications. Remove the custom ad blocker rule(s) and the page will load as expected.